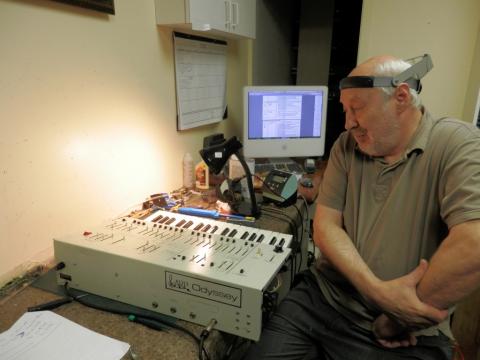 Le service électronique est l'un des fondements de notre entreprise. Notre équipe de 5 techniciens électronique comprend un vétéran de l'industrie: John Kostycz.
Electronic Service is one of our core activities at Analogix Music. Our team of 5 technicians includes one of the most well seasoned veterans in the industry; John Kostycz.
Parmi les instruments que nous avons réparés, calibrés, upgradés depuis notre ouverture / Among the instruments that have come through our shop for calibrations, repairs and upgrades:
Elka Synthex
Roland Jupiter 4, 6 & 8; JX-3P & JX-8P; Juno 6, 60 & 106, Alpha Juno, Roland SH-101, SH-09, SH-7, SH-2000, SH-2, RS-09;MKS Series; D-50
Sequential Prophet 5, 10, 600 & VS; Drumtraks, Sixtrak & Pro FX
Moog Minimoog, MicroMoog, MemoryMoog, Source, Prodigy, Taurus I, Taurus II, Little Phatty, Polymoog, Voyager, Mother 32
Arp Quadra, 2600, Odyssey, Pro Soloist, Pro DGX, Omni I & II
Korg PS-3100, PS-3200, PS-3300, MS10, MS-20, MaxiKorg, Monopoly, Delta, X-911, Sigma, Lambda, KR-55, Poly 6, Poly 61, Poly 800, DW-6000, DW-8000, M-1, Electribe ES-1 & EM-1, Trinity, Kronos
Emu Emulator II, SP-12, SP-1200, Drumulator
Ensoniq ESQ-1, Mirage, VFX-SD, EPS, ASR-10, Fizmo, DP-4
EMS AKS, Vocoder 1000, Synthi A
Wurlitzer, Rhodes, Clavinet
Hammond M-3, B-3 & C-3
Clavia Nord Lead, Electro, Stage
Farfisa Compact, Compact Duo, Micro Compact, VIP Series
Yamaha CS5 to CS80, DX Series. YC Series
Eminent Solina String Ensemble
Oberheim OB-Xa, Matrix 6 & 6R, DX & DMX, 2-voice
Linn Drum, Akai MPC Series, AX60 & 80
Amplifiers / Amplificateurs : Vox, Marshall, Gibson, Ampeg, Peavey, Garnet, Harmony, Roland JC Series
Fender Super Reverb, Deluxe Reverb, Twin Reverb, Vibrolux Reverb
Guitar pedals / pédales de guitare : Electro-Harmonix, Boss, MXR, Morley, Ibanez, DOD, Z-Vex
Digital pianos / Pianos numeriques : Yamaha P , CP & CLP Series, Korg SP Series, Roland RD Series
Et bveaucoup d'autres!! / And many more!!